What's the difference between a credit lock and a credit freeze?
While credit locks and credit freezes are similar in the sense that they restrict access to your credit reports, there are key differences between the two.
Credit freezes are protected by federal law, while credit locks are simply an agreement between you and a credit reporting agency. If someone fraudulently accesses your credit while it's frozen, you're legally protected from any financial liability. Credit locks don't offer the same legal protection.
With that said, credit locks are more convenient and less time-consuming than credit freezes. They can be activated and deactivated instantly, usually from an app on your smartphone. Credit freezes can take longer to "thaw."
Finally, the three major credit bureaus' credit lock services may carry a monthly fee, while their credit freeze services are typically free of charge.
I have a credit lock/freeze with the credit bureaus. What happens next?
When you have a freeze or a lock on your credit profile, you'll receive a notice to unlock or remove the freeze at the credit bureau before you can move forward with your application. You'll need to contact Experian and/or Transunion to remove the freeze or lock before attempting to re-submit your application. Please note, this must be completed within 10 days of your application date or you'll have to start a new application.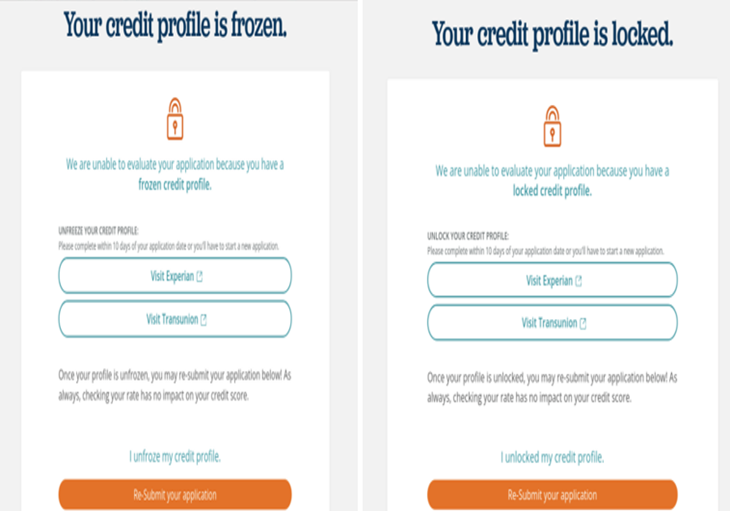 Once you've removed the freeze or lock, please log back into the dashboard and select "Re-submit your application" to continue with the application process.